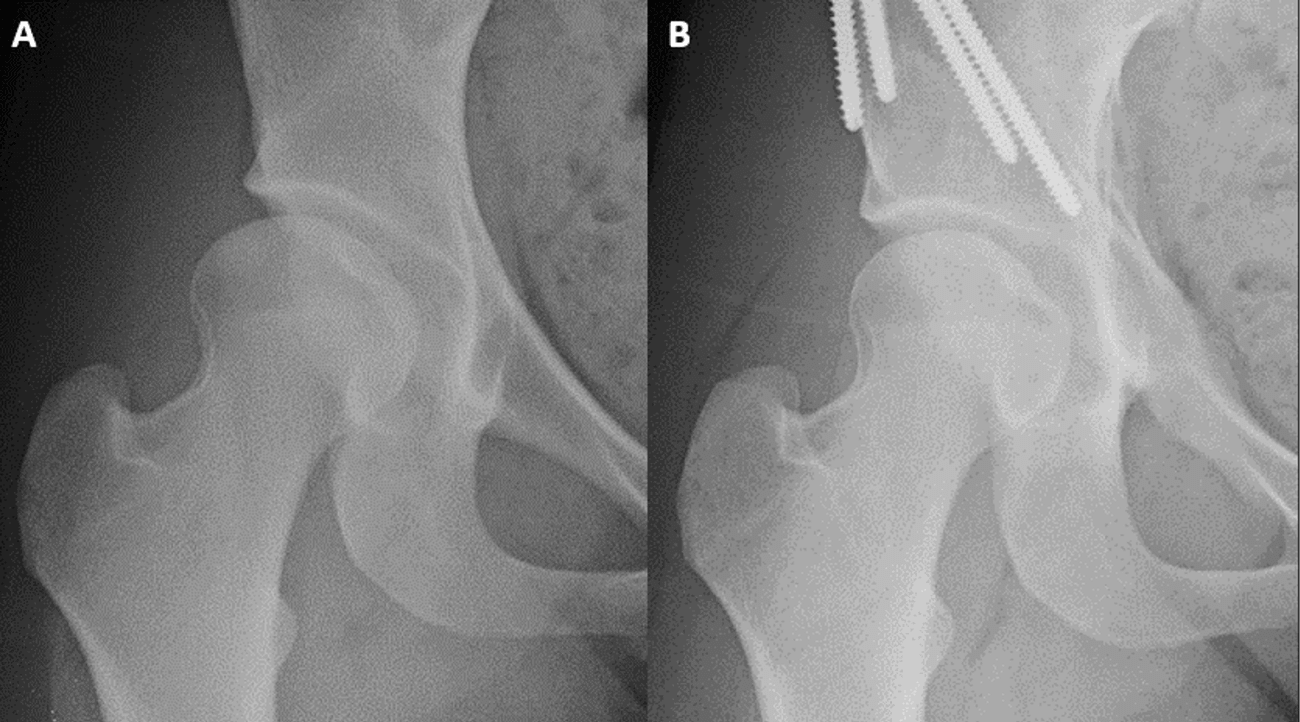 Example of an 18 year old female with acetabular dysplasia (A) treated by acetabular reorientation with a PAO (B) 
Hip dysplasia is a relatively common condition that is characterized by a shallow hip socket and can lead to pain, activity limitation and eventual osteoarthritis. Periacetabular osteotomy (PAO) surgery corrects the deformed hip socket to increase contact between the ball and socket, thereby reducing pain and improving stability and function. 
Recent studies of periacetabular osteotomy (PAO) surgeries have demonstrated overall excellent outcomes in young hip dysplasia patients with otherwise healthy joints. 
One landmark study by Washington University orthopedic surgeons revealed longer term durability of the hip after PAO.[1] "The longevity of the natural hip was 95 percent at 10 years and 92 percent at 15 years, indicating that the majority of these patients are going to have long-lasting improvement and durability of the hip," said study senior author John Clohisy, MD, Washington University Co-Director of the Adolescent and Young Adult Hip Program at Barnes-Jewish Hospital and Washington University. 
Another recent retrospective study published in the Journal of Bone and Joint Surgery in 2022, surgeons with Washington University School of Medicine's Department of Orthopedic Surgery followed 186 patients aged 14 to 45 who received PAO for borderline acetabular dysplasia (a challenging subgroup of dysplastic hips). The research revealed significant improvement of symptoms in 94.9 percent of patients undergoing a primary surgical procedure and a satisfaction rate of 91.2 percent.[2]
Dr. Clohisy estimates he performs more than 100 PAO surgeries per year. He and his team have performed more than 1,500 PAOs, making it one of the higher volume practices for PAO surgery in North America. He has found PAO particularly promising in young, active patients with joint instability but no degeneration, the latter of which would indicate a total hip replacement.[3]
"Affected patients eligible for PAO have a deformed joint that's starting to create difficulties with pain and limitation of activity, but they don't have substantial arthritis in the joint. That's the perfect time to intervene, to correct the hip deformity, alleviate symptoms, and maintain or even improve their activity," he said. 
"If we diagnose and correct the deformity in a hip that's relatively healthy, we can change the natural history of that hip and certainly delay—and in some cases prevent—secondary osteoarthritis of the hip." 
A PAO patient's perspective
As a strength and conditioning coordinator for the St. Louis Cardinals baseball organization in Jupiter, Florida, Jackie, 28, spends most of her day on her feet. Her job is an active one, requiring her to guide players through their workouts to ensure they are moving properly. 
But five years ago, the hip pain that had dogged Jackie at least since her sophomore year in college threatened to sideline her career. Running, squatting and putting players through their paces resulted in stiffness, aching and hip joint instability.  Diagnosed earlier with a tear of the labrum, she had accepted her symptoms as normal. 
"I could barely make it through a workday. At the end of a long day, if I sat down, I was not getting back up," she said. "If it had progressed and gotten worse and worse, I don't think I would be doing the job I'm doing right now. It would have impacted me physically throughout the day." 
PAO in 2018 changed Jackie's trajectory. Within four months she was jogging again, training and getting back into street hockey and basketball. Now, she is keeping up with the players she trains, symptom-free, and is taking new joy from the little things, too. 
After PAO, a stabilized healthy joint is no longer prone to the painful instability and muscle fatigue associated with the hip deformity. Additionally, said Dr. Clohisy, this joint preservation procedure can slow or delay the development of osteoarthritis in the hip. 
The past and future of PAO
"When I was training in orthopedics, the field of hip surgery was very much focused on hip replacement, while in other joints, like the shoulder or the knee, there was a lot of interest in joint-preserving surgeries or treating joint problems prior to the onset of arthritis," said Dr. Clohisy. "There was an obvious void in our understanding—as well as our ability to treat—the pre-arthritic hip in young patients." 
Since then, there has been greater priority placed on hip joint preservation, but hurdles remain. Periacetabular osteotomy is a demanding procedure that requires specialized training, additional cadaver work and a surgical center equipped for PAO surgery. 
When specialized training and technology requirements are met—such as with Jackie's PAO surgery at Barnes-Jewish Hospital—patients often return to the same or better hip function than before surgery. "This next chapter of life is so much better," she said, adding that she was back to full physical function on the job and off. "Like, I hiked in Sonoma. Taking my dog for walk before would hurt, but now I can do it without thinking about it." 
Another roadblock to treatment is that hip dysplasia in athletic young people is deceptively difficult for many physicians to identify. The symptoms, Dr. Clohisy said, differ very subtly from other orthopedic injuries. Many patients initially go undiagnosed or misdiagnosed with groin pulls, muscle pulls, muscle strain, cartilage tears and more, which can delay treatment for several years. 
"I think we've improved, but we're really trying to educate the medical community and patients because we can still make progress in establishing a timely diagnosis," Dr. Clohisy said.  Key to this progress is getting patients to a specialized center such as Barnes-Jewish Hospital, where they have access to several surgeons specially trained in PAO surgery. 
It remains to be seen how wider adoption of periacetabular osteotomy now could change the landscape for patients and the medical community later. More research is needed to further optimize the procedure and to determine the degree to which PAO can delay or prevent osteoarthritis, and for how long. The Washington University team is focused on this type of clinical research which will continue to improve the care of patients with hip dysplasia.  
For More Information and Referrals
To discuss a patient who would benefit PAO, please reach out to Dr. Clohisy through Doximity or call 314-514-3500.
[1] Wells, Joel, Schoenecker, Perry, Duncan Stephen, Goss Charles W, Thomason Kayla, Clohisy, John C. Intermediate-Term Hip Survivorship and Patient-Reported Outcomes of Periacetabular Osteotomy: The Washington University Experience. The Journal of Bone and Joint Surgery. Am. 2018 Feb 7;100(3):218-225. doi: 10.2106/JBJS.17.00337.PMID: 29406343 
[2]  Nepple, Jeffrey J. MD1; Parilla, Frank W. MD1; Pashos, Gail E. BS, MT1; Clohisy, John C. MD1,a. Outcomes of Periacetabular Osteotomy for Borderline Acetabular Dysplasia. The Journal of Bone and Joint Surgery 105(2):p 137-144, January 18, 2023. | DOI: 10.2106/JBJS.22.00491 
[3]  Novais, Eduardo & Ferraro, Samantha & Miller, Patricia & Kim, Young-Jo & Millis, Michael & Clohisy, John. (2023). Periacetabular Osteotomy for Symptomatic Acetabular Dysplasia in Patients greater than or less than 40 Years Old: Intermediate and Long-Term Outcomes and Predictors of Failure. The Journal of bone and joint surgery. American volume. Publish Ahead of Print. 10.2106/JBJS.23.00001.